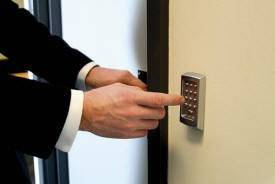 Trained and highly-experienced, our highly-professional locksmiths continue to update their knowledge and portfolios through continuous training sessions, in addition to holding a wealth of experience in the industry. Every year, our locksmiths attend annual conferences and other workshops to stay updated on the latest trends in the locksmithing world.
Besides providing our technicians with the requisite knowledge and skill, we also equip them with state-of-the-art tools to ensure that our team of locksmiths is fully prepared for effective rectification of your lock & key problems. We also operate a highly-sophisticated fleet of mobile locksmith vehicles to ensure that you are not kept waiting when you need a quick lock change or any other service at a snap.
Apart from a range of services that includes automotive, residential and commercial services, we also provide emergency services. Because we know that an emergency requires prompt intervention, we respond to calls throughout the day and night, including holidays and off-hours. We pride ourselves as a reliable locksmith firm that can handle any of your lock & locksmith problems, whether in emergencies or at your own convenience, making Lock Key Store the top choice for all your needs including lock repairs, installation of high-security locks and more.
No other competitor can match our customer service as we prioritize our customers and their satisfaction above everything else. Because your security is our concern, we ensure your calls are answered 24 hours a day, 7 days a week.
Emergency Locksmith Services
Imagine locking yourself out of your home, office, or car. When caught up in an emergency crisis, what you need is a locksmith service provider that understands the precarious nature of your situation. Lock Key Store is your local locksmith who caters to your emergency lock & key needs! We have a record response time to emergency locksmith situations that arise anywhere in Richardson, TX area. Our technicians are trained to provide all kinds of emergency services. Whether you've just experienced a break-in and need locks change right away or want to get out of a car lockout situation, do not worry, we are just a phone call away and will resolve your issue promptly!
Security Professionals
Lock Key Store
Richardson, TX
972-512-6388 Lock Key Store Richardson, TX 972-512-6388
Beyond basic lock & locksmith service, our locksmiths are trained to serve as security consultants, evaluating your current security setup in order to give you professional advice on how you could further enhance it with advanced locking systems. We hire professionals who are highly-competent and experienced, to ensure that only locksmiths with high ethical standards and professionalism handle your lock and security issues. You can trust Lock Key Store for its reliability, efficiency and high integrity.
What Does a Locksmith Do?
Many people erroneously think that a locksmith only performs lock repairs, key cutting and similar services. However, in addition to such basic lock & key services, today, locksmiths are expected to work with master key systems, car locks, safes, high-security locks, digital locks and more. To provide such an extensive range of services, a locksmith requires thorough training. At Lock Key Store, our professionals not only have formal education, but also take up an apprenticeship program that equips with the skill set required to handle modern-age lock & locksmith demands.
If you're looking for a professional, reliable, and affordable locksmith service provider, Lock Key Store is the name you can bank upon. Give us a call today!
We Provide Lock Repair in the following zip codes.